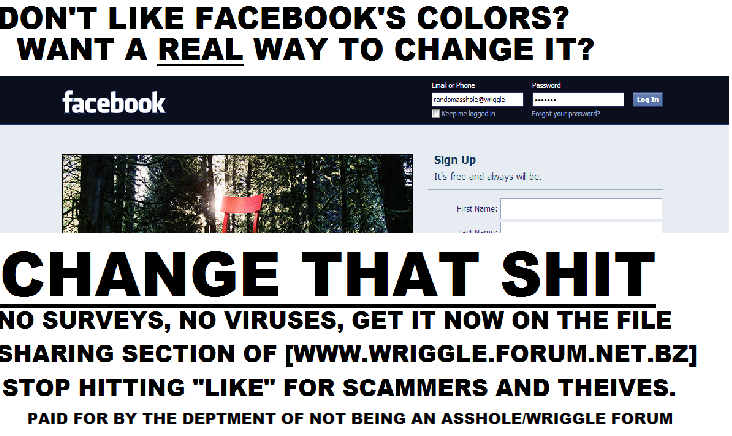 For the retards who came to Wriggle to freeload off this because they were falling for scams, Here is how:
Download greasemonkey for Firefox or Tampermonkey for chrome.
Google search "Greasemonkey Facebook color changer" and go to userscripts.org and install that script to tampermonkey or greasemonkey.
Go to wherever your tool menu is, and CHANGE THAT SHIT...
If anyone has fileshare links, then please post them in this thread, I know I am kinda going against my own guidlines for file sharing in this section, but whatever.
DON'T POST FACEBOOK COLOR CHANGE STUFF IN NEW TOPICS ON FILESHARE SECTION PLEASE, BECAUSE I COULD SEE THAT GETTING MESSY KINDA QUICK IF PEOPLE POST A NEW THREAD FOR EACH ONE. KEEP IT HERE.

_________________
"I disapprove of what you say, but I will defend to the death your right to say it." -Evelyn Beatrice Hall

---
Permissions in this forum:
You
cannot
reply to topics in this forum