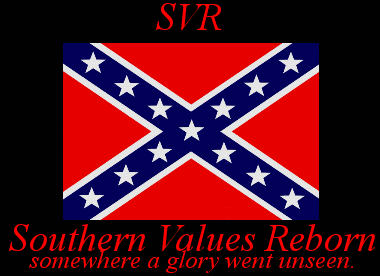 This group is a nonviolent leaderless resistance against those who want to destroy southern values!
ANYONE CAN MAKE A PAGE FOR THIS GROUP AS LONG AS IT FOLLOWS THE FOLLOWING RULES:
This is a group made to ENCOURAGE southern values to be practiced; not to enforce them. We do NOT encourage illegal behavior!
RULES:
1. Mind your manners, don't forget what this group is about.
2. Do NOT insult people. Report them if they are harassing you and we will simply ban them from the page.
3. Try to get along even if someone is being an asshole.
4. Obey all laws of the United states.
Moderators have the right to ban you at any time for any reason. No exceptions.
THERE ARE OTHER PAGES ACROSS THE INTERNET FOR THIS GROUP, THEY ARE NOT IMPOSTERS AS LONG AS THEY ARE FOLLOWING THE ABOVE RULES!
Ps. This group can be found in several places on facebook, and is to remain unofficial.

_________________
"I disapprove of what you say, but I will defend to the death your right to say it." -Evelyn Beatrice Hall

CrazyWhiteGirl

Wriggle Civilian





Posts

: 28


Join date

: 2012-08-02


Location

: Alabama




FearOfTheSouth

Wriggle Civilian





Posts

: 28


Join date

: 2012-08-10



Glad to join GUYS

The south shall rise again

nikkimariewalker

Wriggle Civilian





Posts

: 1


Join date

: 2012-10-10


Age

: 26


Location

: Tallahassee, FL




---
Permissions in this forum:
You
cannot
reply to topics in this forum